Winner: Encore Performance
2012 Boulder Fringe Festival!
Best Comedy
2008 San Francisco Fringe Festival!
Sex-Ed at its Best! - Dr. Carol Queen, co-founder of the San Francisco based non-profit Center for Sex and Culture and featured educator in Bend Over Boyfriend (1998).
"...this little theatrical workshop on sex, relationships and intimacy was informative, amusing, clever, touching and sexy all rolled up in an hour." - "Confessions Of A Fringe Addict Part Deux," by Ty C Stover. Indy.com (Indianapolis Star).
"I've seen (and done) a lot of "indie theater" and know that most of it can be boring, pretentious and a platform for some self absorbed ass hat to unload on an unsuspecting audience things that would be better left in a therapist's office. Instead what I saw was a sweet, insightful and very honest performance about a topic that even I, the experienced sexual outlaw, still have a slight pause talking about in public. Best of all, it was funny, like bust a gut, laugh out loud funny. The moments of raw, genuine honesty about a very taboo and sometimes confusing sexual desire really work, offset that with silly humor and it is a winning combination." -"An Apology, of sorts" Monk, of TwistedMonk.com, February 15, 2010.

"John and Sophie are the cutest, sweetest, most winsome pair of sexual outlaws in the world, you just want to pet them and cuddle them and take them home and... do evil things to them." -"Art Imitates Life" Mistress Matisse's blog entry on visiting Peg-ass-us. February 16th, 2010.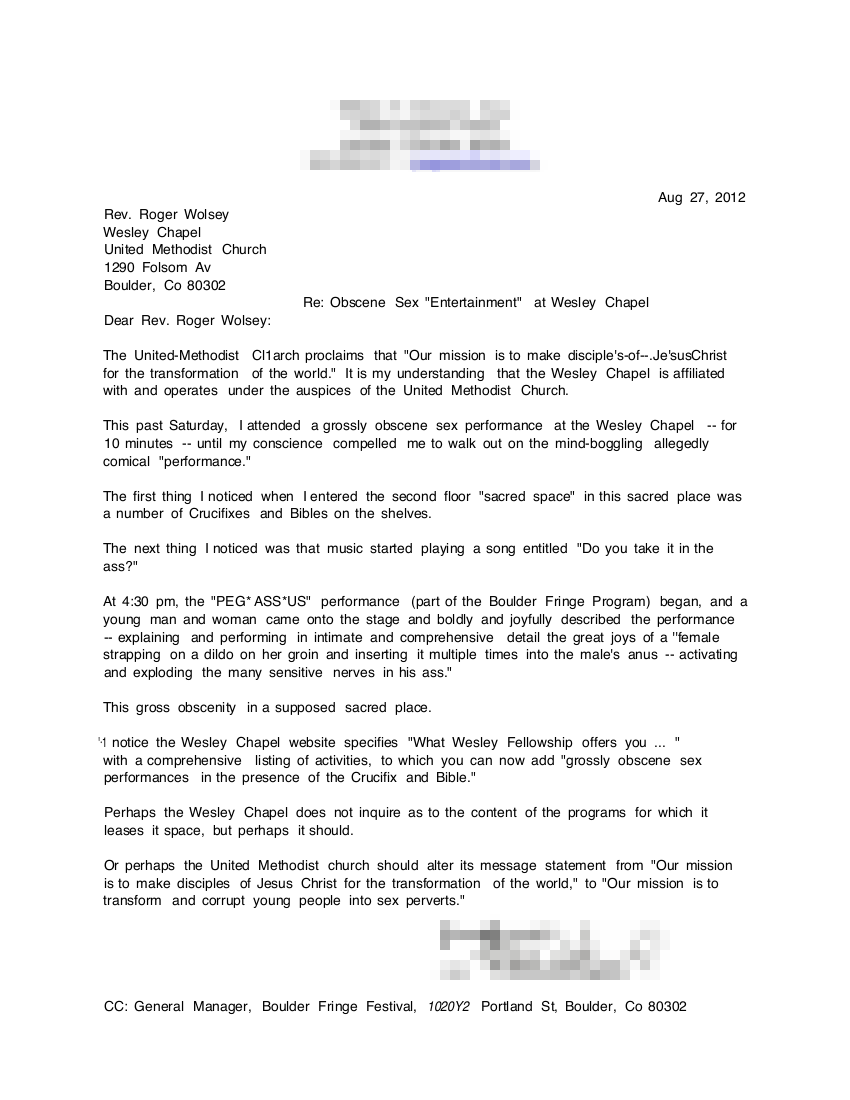 [see right] A complaint letter, from an audience member in Boulder, CO. We applaud The Boulder International Fringe Festival and Wesley Chapel for embracing the spirit of Fringe - and us.
PAPERMAG: Stage Notes by Tim Murrin interviews Sophie & John, October 7th, 2009.
"Ace in the Hole: Dan Savage inspires Strap-Ons On Stage," Voice Choice, The Village Voice, February 6, 2009
This is Sex Theater, by Jolie Prom, Debaucheri Sex Review Issue #2 March '09. (http://dbcmag.presspublisher.us/issues/Issue_02) "Leo's character is a jittery sort of spasmodic persona, who's uncomfortable stage stutters creates wanton insecurity with revealing his pegging fetish, yet lets the audience know that it is just dying to come out. His partner, Nimmannit, is the fiery, lively yin to his yang. She bursts all over the stage with vulgar sexual inquiries and spits out cute and delightful songs about "ass fucking" and mythical creatures.
Montreal Fringe NetBuzz
*****I really enjoyed this show. I think it's an awesome exploration of how it feels to prefer sexual activities that are perceived to be outside of the norm.
****Heartfelt, Honest, NUDITY. WHAT MORE COULD you want in a fringe show?
****The show was incredible and entertaining. Kind of like the sex ed you wish you'd had in high school- plus John and Sophie are way hotter than the football coach who skipped right over the joys of anal in my sex ed class. Way too fun to be missed!
****A hilariously penetrating look at a practice that deserves more exposure. Go see this, unless you're a prude.
****Ok- these guys are very sweet - but a whole hour on the joys of anal pleasure?! Come on guys! There's more to life than playing with your bottoms...