Evacuated!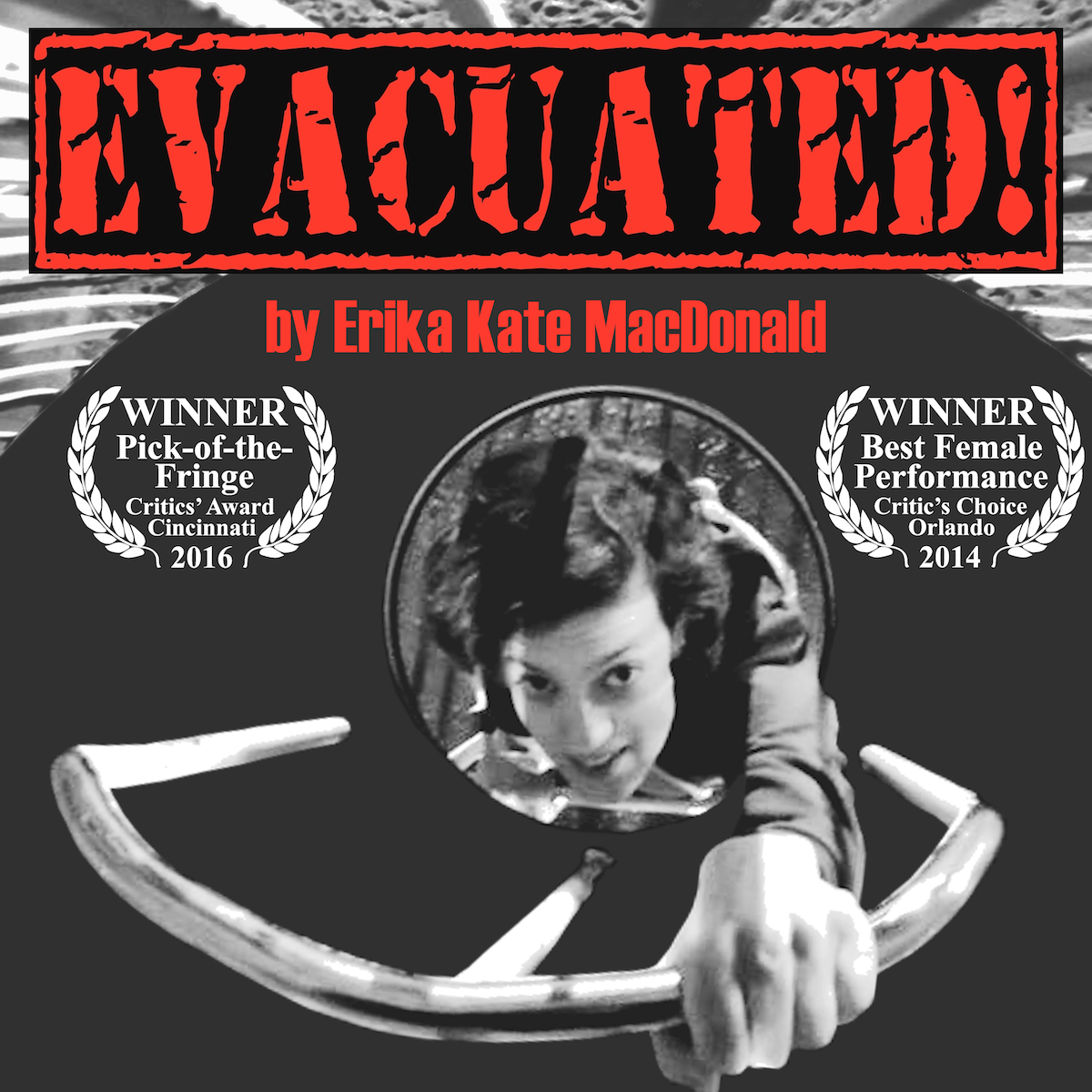 Forced to flee Indonesia...
the unforgettable true story
of a strange girl in a strange land.
the new award-winning solo show
by Erika Kate MacDonald
2017 TOUR DATES:
MAY 16-29, ORLANDO, FL
2014 Best Female Performer returns with a new solo show!
Part of the Orlando International Fringe Festival
FRI 5/19 - 7:15pm
SAT 5/20 - 2:45pm
SUN 5/21 - 8:30pm
TUE 5/23 - 5:45pm
FRI 5/26 - 5:15pm
SAT 5/27 - 6:45pm
SUN 5/28 - 11:00am
Pink Venue
$12 General Admission (plus ticketing fees)
TICKETS: available HERE online
or in person at Festival Box Offices during the Festival

JULY 19-30, WINNIPEG, MB CANADA
Director of "Papa Squat" (***** - CBC, **** - Free Press) returns!
Part of the Winnipeg Fringe Festival
Wed July 19 8:30pm <-- 2 for $12 Performance!
Thu July 20 7:00pm
Fri July 21 7:00pm
Sat July 22 4:00pm
Sun July 23 2:30pm
Tue July 25 5:30pm
Wed July 26 8:30pm
Thu July 27 8:30pm
Fri July 28 5:30pm
Sat July 29 4:00pm
Sun July 30 2:30pm
Venue #26 Creative Manitoba (formerly ACI Venue)
245 McDermot Ave. 4th floor (elevator available, A/C)
TICKETS: $12 General Admission (available HERE online)
Door Discount: $10 Students and Seniors
See Winnipeg Fringe website for more details!
AUGUST 3-12, SASKATOON, SK CANADA
Part of the Saskatoon Fringe Festival
Thu Aug 3 7:10pm
Sun Aug 6 2:20pm
Mon Aug 7 5:55pm
Tue Aug 8 9:30pm
Thu Aug 10 5:55pm
Fri Aug 11 9:25pm
Sat Aug 12 7:50pm
Grace-Westminster Fringe Venue (upper)
See Saskatoon Fringe website for more details
REVIEWS AND AWARDS:
"10 is not enough: Top 11 Curtain Calls of 2016"
- Cincinnati Enquirer
WINNER of the CRITICS' Pick of the Fringe AWARD
- Cincy Fringe 2016 -
FOR THE PRESS:
Images and releases available here.
PRODUCTION HISTORY NOTE:

"Evacuated!" was originally produced under the alternate title "Ice Candle."